News Room
March 8, 2013
CHCI is proud to announce its partnership with Lean In, a non-profit organization committed to offering women the encouragement and support to achieve their goals. CHCI joins Black Filmmakers Foundation, Catalyst, Estee Lauder, Lionsgate Films, and Teach for America as official launch partners with Lean In because it believes that cultivating more balanced teams and more female leaders is better for its organization and for the nation, and because it wants all of our Latinas to reach their full potential.
"CHCI's development of the next generation of Latino leaders includes the empowerment of young Latinas who will be the future leaders of our nation, our communities and our families," said Esther Aguilera, CHCI President & CEO. "We are proud to Lean In and join this tremendous effort to showcase and foster the leadership of women. These type of efforts are even more crucial to young Latinas who do not have the support network, mentors, or tools to help them navigate the challenges of the complex workplace. We thank Lean In for focusing on this issue and the diversity of our current and future workforce." Read More
---
March 8, 2013
CHCI today announced recent additions to its 2013-14 CHCI Advisory Council, adding dedicated national leaders committed to the organization's mission of developing the next generation of Latino leaders.
CHCI is pleased to welcome its newest 2013-14 Advisory Council members:
Andrew Baldonado, Anheuser-Busch Companies
Alex Chaves, Sr., Parking Company of America Management, LLC
Lily Eskelsen, National Education Association
Rita Jaramillo, MRJ Smart Solutions, LLC
Mario Lozoya, Toyota Motor North America
Rafael Navar, Communications Workers of America
Javier Palomarez, U.S. Hispanic Chamber of Commerce
Angela Riemer, Pfizer
Frank Ros, The Coca-Cola Company
Ipyana Spencer, UnitedHealth Group
---
March 4, 2013
Each spring, golfers of all skill levels from across the nation join CHCI for its annual Fiesta de Golf Scholarship Challenge held at Andrews Air Force Base's prestigious courses located in the Washington, D.C. area. The Fiesta de Golf Scholarship Challenge, now celebrating its 17th year, provides an opportunity for community and industry leaders to network and have fun while raising money to support CHCI's mission to Develop the Next Generation of Latino Leaders®.
To date, CHCI has provided more than 1,300 scholarships and invested more than $4.5 million in the Latino community to fund higher education.

But the demand continues to rise and CHCI needs your support to continue providing crucial financial assistance to young Latinos seeking a post-secondary education. Learn More
---
February 27, 2013
CHCI hosted its first Ready to Lead (R2L) event of the year in Phoenix, Arizona. Over 150 students, representing nineteen area high schools, gathered at the South Mountain Community College (SMCC) campus on Saturday, February 9, 2013 to learn all about the college planning process. SMCC President, Dr. Shari Olson, welcomed participants to the campus and reassured them that a college education can be achieved despite the many obstacles faced by first-generation students.
The program included student workshops highlighting three main areas of focus in: College Planning, Financial Literacy, and Leadership Development. Arnold Torres, student services specialist at SMCC, facilitated an informational presentation based on three easy-to-follow steps students can use as they prepare a plan to apply to college; Rema M. Oxandaboure, regional program manager at the Federal Reserve Bank of San Francisco, traveled all the way from southern California to engage students in a fun and interactive session about the many benefits associated with being smart financial planners, especially when it comes to financing a college education; and Tomas Robles, outreach coordinator at the United Farm Workers Foundation & CHCI Alumnus, guided students through a set of team and leadership building activities to help students uncover the leader already existing within.
---
February 6, 2013
CHCI is proud to share the following biographical article on former Rep. Charles A. Gonzalez.
Few people possess the inherent commitment to become a public servant. It takes a particular type of human being, selfless and hard-working in nature, to take on such noble yet strenuous responsibility. Rep. Charles A. Gonzalez, born with public service in his blood, is one of those individuals who not only has the natural ability, but the passion and commitment to make impactful and positive change for the community.
As Gonzalez has ended his time in Congress after seven terms, we look back on the man and the many contributions he has made to our nation, to our community, and to the future leaders of America. Full story here
---
February 4, 2013
WASHINGTON, D.C. – The Congressional Hispanic Caucus Institute (CHCI), the nation's premier Latino youth leadership development and educational services organization, welcomed the arrival of its 2013 Spring Congressional Internship class to Washington, D.C., on Monday, February 4, 2013. Twelve undergraduates arrived from eight states to take part in the nationally-recognized and award-winning CHCI Congressional Internship Program (CIP).
With the support of Walmart, the CIP offers three internship sessions each year that provides Latino college students unmatched job opportunities in congressional offices on Capitol Hill as well as an opportunity to participate in CHCI's nationally renowned leadership and professional training program. The goal of the program is to expose talented Latino college students to the inner-workings of the federal government while preparing them to become part of the workforce pipeline to fill leadership positions in all sectors – private, public, and non profit. Read More
---
February 4, 2013
Most high school students don't get to spend their Monday watching open heart surgery – but that is exactly what some of the 2012 High School Latino Leaders in D.C. alumni got to do on a recent visit to Mt. Sinai Hospital, located in New York City. On Monday, December 8, 2012 Stephanie Revilla, Melina Hernandez and Sabrina Moreno participated in a Career Day sponsored by Mt. Sinai Hospital, a sponsor of the 2012 High School Latino Leaders in D.C. program. The students shadowed various employees at Mt. Sinai Hospital and met with administrative and medical staff who shared their success stories and gave them a behind the scenes tour of the hospital. The visit reinforced lessons that the students learned during the summer to D.C. with CHCI.
"I was so inspired by the stories of the professional's we met at the hospital. Their stories of resiliency reminded me that I can be anything that I want to be," explained Stephanie Revilla, a senior at The Bronx School For Law, Government, and Justice who has aspirations of being an attorney. "I have been going [to Mt. Sinai hospital] since I was a child and seeing it from another perspective was so exciting." Read More
---
February 1, 2013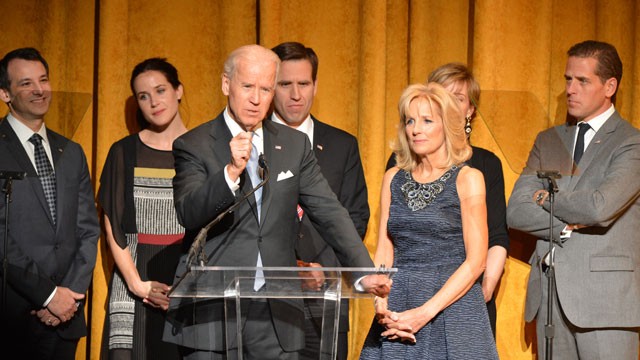 Vice President Joe Biden and Dr. Jill Biden at Latino Inaugural 2013: In Performance at The Kennedy Center on January 20, 2013 in Washington, DC.
Last month, CHCI joined a national coalition of Latino organizations, Latino elected officials and community leaders from across the country, as well as a long list of Latino entertainers to celebrate the historic re-election victory of President Barack Obama during Latino Inaugural 2013. The three-day series of lectures, symposia, and cultural gatherings was organized to give Latinos the chance to celebrate their historic role in the 2012 Presidential elections.
The two main events included a Symposium on Saturday, January 19 and a Latino Inaugural "In Performance" on the night of Sunday, January 20. The symposium, titled The Futuro: Talks About the Road Ahead, featured a series of talks on the most pressing issues facing our community and how to develop an agenda that will strengthen the country as a whole. Read More
---
January 16, 2013
WASHINGTON, D.C. – Principals of influential Latino organizations this Saturday will lead a series of talks on how Latinos can increase participation in the civic life of the country and translate this engagement into policy outcomes on issues ranging from the economy to education to immigration. The symposium, called The Futuro: Talks About the Road Ahead and sponsored by the American Latino Heritage Fund, will take place at the Organizations of American States on 17th St. and Constitution Ave. (entrance on 17th), from 9:30 a.m. to 1:00 p.m. Read More
---
January 4, 2013
"It's finally happened," Biden said. "The American people have begun to understand not only the great contributions made, but the awesome potential, future potential of the Hispanic community."
In a historic night for the Hispanic community, CHCI welcomed the Hispanic members of the 113th Congress at a ceremonial swearing-in on Thursday, January 3, 2013, in the East Hall at Union Station in Washington, D.C. Vice President Joe Biden participated in the program and performed the swearing-in for the Hispanic members of the 113th Congress, and newly-elected CHCI and Congressional Hispanic Caucus Chair Rep. Rubén Hinojosa. More than 600 people turned out for the ceremony to hear from Biden, Secretary of Interior Ken Salazar, Secretary of Labor Hilda L. Solis, and Senator Robert Menendez. Telemundo anchor Jose Diaz-Balart served as celebrity emcee and the event was hosted by Time Warner Cable. More...
---