2013 Event Highlights
CHCI invites you to join us in 2013 for an exciting lineup of events happening across the nation, including three new regional opportunities to support CHCI programs and transform lives locally in Texas, Los Angeles, and New York.
---
CHCI Celebrates Latino Art, Culture, and Political Power of Latinos during Latino Inuaguration 2013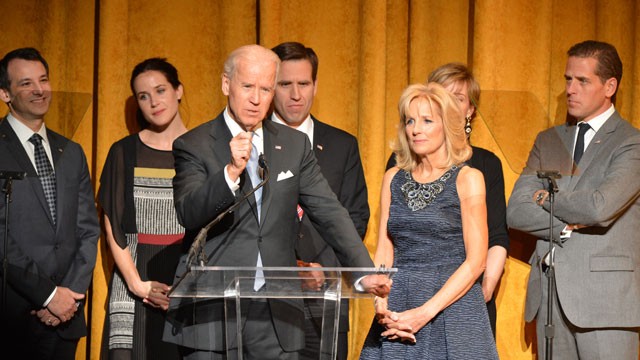 Vice President Joe Biden and Dr. Jill Biden at Latino Inaugural 2013: In Performance at The Kennedy Center on January 20, 2013 in Washington, DC.
Last month, CHCI joined a national coalition of Latino organizations, Latino elected officials and community leaders from across the country, as well as a long list of Latino entertainers to celebrate the historic re-election victory of President Barack Obama during Latino Inaugural 2013. The three-day series of lectures, symposia, and cultural gatherings was organized to give Latinos the chance to celebrate their historic role in the 2012 Presidential elections.
---
A Legacy of Service: Rep. Charles A. Gonzalez
CHCI is proud to share the following biographical article on former Rep. Charles A. Gonzalez.
Few people possess the inherent commitment to become a public servant. It takes a particular type of human being, selfless and hard-working in nature, to take on such noble yet strenuous responsibility. Rep. Charles A. Gonzalez, born with public service in his blood, is one of those individuals who not only has the natural ability, but the passion and commitment to make impactful and positive change for the community.
As Gonzalez has ended his time in Congress after seven terms, we look back on the man and the many contributions he has made to our nation, to our community, and to the future leaders of America. Full story here
---
Congressional Internship Program Brings Diversity to Capitol Hill
CHCI welcomed the arrival of its 2013 Spring Congressional Internship class to Washington, D.C., on Monday, February 4, 2013. Twelve undergraduates arrived from eight states to take part in the nationally-recognized and award-winning CHCI Congressional Internship Program (CIP). Read More
The Spring Congressional Internship Program is made possible thanks to the generous support of Walmart.
---
CHCI Fellowship Program Application Deadline Approaching
Application Deadline: February 15, 2013
CHCI is seeking to offer exceptional Latino college and post-graduates from across the country unparalleled exposure to professional experiences in a vast array of public policy arenas such as education, health, housing, law, and STEM (science, technology, engineering, and mathematics) while participating in CHCI's nationally acclaimed leadership development training program. Read More & Apply Now
The CHCI Fellowship Program is made possible thanks to the generous support of BP, New York Life Foundation, UPS, AARP, Altria, The Coca-Cola Foundation, Google, SEIU, Cargill, AFL-CIO, Microsoft, Verizon, MillerCoors, PepsiCo Foundation, Shell, API, AMGEN, and Southwest Airlines.

---
High School Latino Leaders in D.C. Alumni Get the Chance to Explore Health Careers
Most high school students don't get to spend their Monday watching open heart surgery – but that is exactly what some of the 2012 High School Latino Leaders in D.C. alumni got to do on a recent visit to Mt. Sinai Hospital, located in New York City. On Monday, December 8, 2012 Stephanie Revilla, Melina Hernandez and Sabrina Moreno participated in a Career Day sponsored by Mt. Sinai Hospital, a sponsor of the 2012 High School Latino Leaders in D.C. program. The students shadowed various employees at Mt. Sinai Hospital and met with administrative and medical staff who shared their success stories and gave them a behind the scenes tour of the hospital. The visit reinforced lessons that the students learned during the summer to D.C. with CHCI. Read More
The CHCI High School Latino Leaders in D.C. Program is made possible thanks to the generous support of founding sponsor, StateFarm, and the official airline sponsor of the Leadership Development Programs, Southwest Airlines.
---
Join the Conversation
Alumni Couple of the Month
Fellow of the Month
Scholar of the Month
February 9
Ready to Lead
South Mountain Community College
Phoenix, AZ
February 25
Chair's Board and Advisory Council Dinner
Washington, D.C.
February 26
CHCI Board of Directors Meeting
Washington, D.C.
CHCI is the nation's premier Hispanic nonprofit and nonpartisan 501 (c)(3) leadership development organization that creates young Latino leaders by promoting college readiness; supporting college attainment; providing unmatched professional experience; and offering award-winning leadership development programs that connect participants to a powerful network of Latino leaders.
In 2012, CHCI is celebrating CHCI at 35: Keeping the Founders' Promise as a tribute to the small, but powerful, group of Congressmen whose vision has resulted in transformative programs that empower young Latinos and develop the next generation of Latino leaders. Throughout CHCI's 35 years, its programs—Ready to Lead, High School Latino Leaders in D.C., Scholarships, Internships, and Fellowships—have made a powerful, positive difference in the lives of more than 7,000 young Latinos.
Learn how you can support CHCI and its incredible mission.